Images
Click on a thumbnail to view and download the expanded, high resolution version of the image.







Here's a poster ready for you to add location, date, time and price, etc.
Choose "letter" or "A4" format.
Biography and Media Information
This page contains high resolution photos and a ready-to-print poster you may download. There is also a biography, brief reviews and a discography suitable for concert programs. Promoters are free to use this information without further permission.
As winner of the inaugural "Trophée Stan Hugill", French fans dub Tom "The Springsteen of Sea Chanteys". Old Songs Festival (Altamont NY) declares "This man knows the sea ... from the bottom up!", whilst Living Tradition (UK) says "Although I always knew he was good, I was not quite prepared for HOW good." 24 years in the British Royal Navy, "provides him with that vitally authentic stance with which to tackle nautical song" Living Tradition.
Tom's repertoire—from traditional shanties to songs fashioned out of his own seafaring background—recruits his audience for a voyage by turns reflective, dramatic and humorous. Born in Northern Ireland, Tom's Celtic heritage is obvious in his clear, strong voice, evoking quiet sorrow for a fisherman lost to the sea just as honestly as it powers out a shanty "to be heard above the gales."
With songs that have become folk standards; known and sung wherever great choruses ring out; Tom accompanies himself on button accordion and ukulele—but it's that powerful vocal style and infectious humour—that quality of entertaining—which keeps audiences coming back again ... and again.
If you are interested in the REAL (only slightly) abridged history ... click here.

Lost the (stage) plot? Here it is: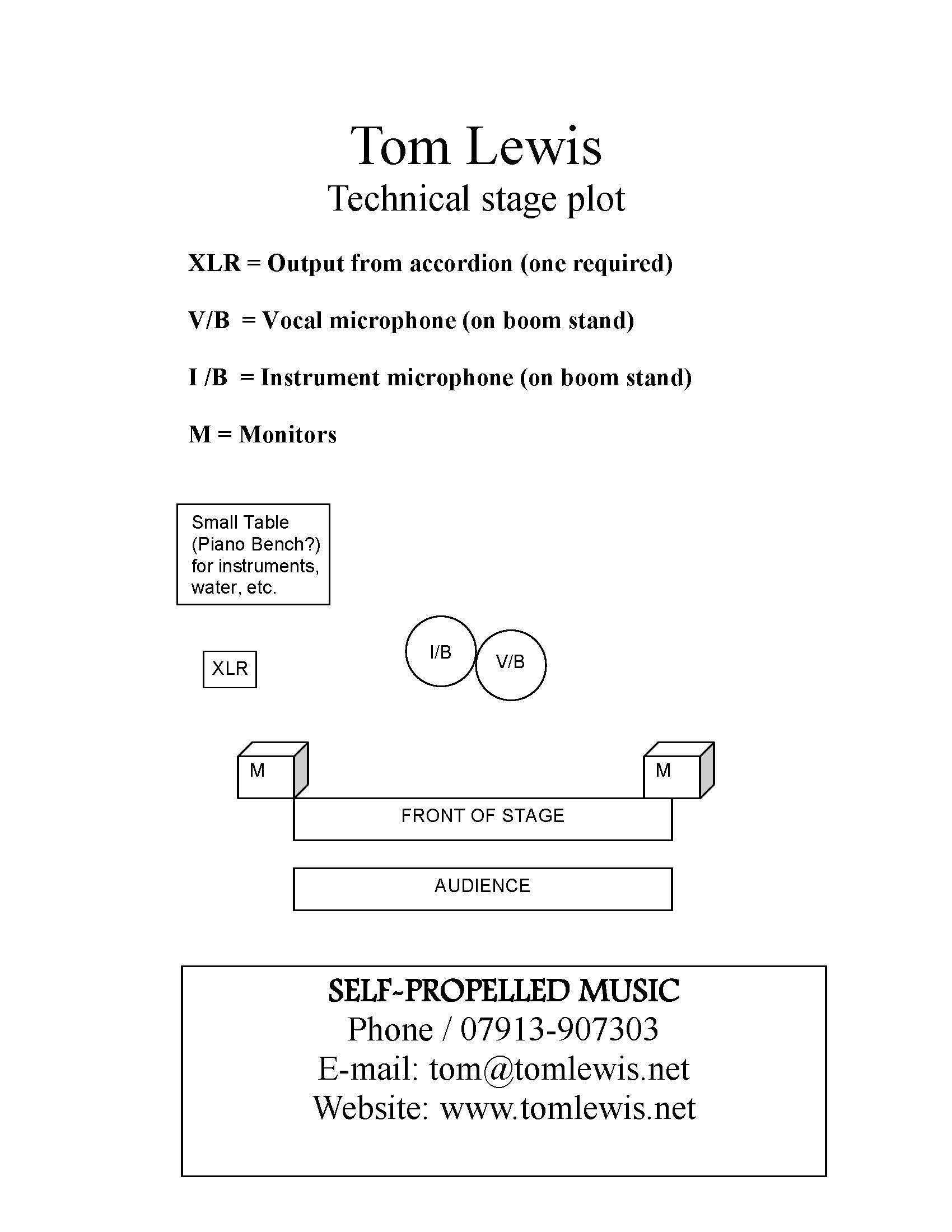 Sound Bites from the Critics
"highly infectious ... I can't help but be caught up in the magic myself and add my own voice to the choruses."
Mike Regenstreif, Sing Out! Magazine
"...full of emotion and rich in truthful detail."
Les Seiminuik, Penguineggs (www.penguineggs.ab.ca)
"...the works of a greatly gifted songwriter. His recordings are filled with a vibrant authenticity that is timeless."
Gerry Taylor, New Brunswick Telegraph-Journal
"A consistently strong set that packs a wallop. Fine stuff with real bite."
Living Tradition Magazine UK
"It's impossible not to sing along."
Dirty Linen
"...a charismatic stage presence ... the tang of salt still lingers in his lyrics."
Stephen Pederson, Chronicle-Herald, Halifax NS
"A 'singer-songwriter' who is truly both halves of the hyphenate!"
Reel Times, Austin, TX
"Tom has carved a niche for himself in the annals of maritime music, his traditional idiom song writing is up there alongside Tawney and MacColl".
Seán Laffey, Traditional & Folk Music Directory UK
"Thoroughly entertaining ... brimming with robustly resonant harmonies and songs, by turns traditional and contemporary, thoughtful and whimsical."
Mike Joyce, The Washington Post
"Don't ask whether you should buy this album (360°). Just decide on how many copies."
Dai Woosnam - Living Tradition - Issue#62