News
June 2013
"News" (the clue is in the word, Tom) is supposed to be NEW!!! As my previous "news" is dated November 2012; you might surmise that there is some … "news", that is! For a start, I'm in a whole new decade, and a whole new home!
A delightful crowd of friends - old and new - were at the SQUARE AND COMPASS pub, in Worth Matravers, to help me celebrate my 70th. birthday; almost exactly 30 years following a similar party in that wonderful location. Amazingly … and very gratifyingly … lots of people from the 1983 event were there this past April and … more amazingly … we even recognized each other!


The "new home" bit has been occasioned by my lovely (91 years young) Mum-in-La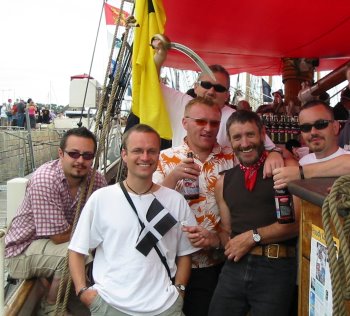 w: Irene; needing a bit of company and support … so; for the time being; Lyn and I are resident in Bournemouth, on England's South coast. The bitter-sweet part of that is that we've had to sell our lovely home in the British Columbia mountains. "THERE ARE PLACES I'LL REMEMBER ALL MY LIFE … etc., etc." (J. Lennon)
Anyway … onward and upward … there are folk clubs and festivals to be part of; all over Britain and Europe; and Lyn and I will be touring in North America before too very long. A delightful spin-off from the relocation is greater opportunities to join with my Polish friends, at several festivals during the upcoming summer. Details can be found by clicking on the "Tour schedule" link, just over on the left.


---
November 2012
The most exciting thing that's happened to me for a long time (I know... I need to get out more!) is a great review by Dai Woosnam, ace reviewer for Britain's LIVING TRADITION magazine. Click here to read it.

Of somewhat greater moment is the impending re-location which Lyn and I will be making in February, upcoming.

Next Spring, Lyn's lovely Mum (Irene) will be 91! She keeps in quite good health and excellent spirits but, she's going to require a modicum of company and support, in order to continue living in her own home; in Bournemouth; on the South Coast of England. Consequently, we're going to move in with her for a while; forsaking our beloved home, in the mountains of British Columbia.

This will be quite an upheaval for us, but we're looking forward to the adventure. Additionally; the move will afford me new opportunities to accept more gigs in the U.K. and Europe; as well as greater prospects for performing with my Polish buddies: QFTRY.

As can be seen else where on these pages, Lyn and I will be facilitating TWO Float To The Festival expeditions in 2013; as well as one planned for 2014. Before any of that, I'll have to find some way to properly celebrate my 70th. birthday, next April.


_____________________________________________________________________________________________________

October 2011
POLES (A)PART II
After a seemingly interminable wait, post-production work on the new recording is almost complete. The target for release (escape?) is "by the end of November" … he said! This will be my second collaboration with my Polish friends QFTRY, who not only sang and played so wonderfully but also made the stunning arrangements of the songs on the POLES APART recording. Ten years later they have outdone themselves on a selection of songs to make you wonder at where the genre "nautical song" might be heading. Soaring vocals and harmonies abound, along with some minimal – but exquisite – instrumental accompaniments. "Sneak previews" (pre-listens?) will be on the internet in the coming weeks.
In General...
Given the infrequency of updates to this page (the previous version was dated "December 2009") one might surmise that very little is happening in the life of Tom Lewis … not so!!!
Whilst Lyn's professional circumstances have led to a slight pull-back from a rigorous touring itinerary, I've maintained a reasonable schedule over the past couple of years, and intend to do so until Lyn "retires" at the end of next year … at which point we'll resume touring at a more energetic pace. That will involve a major tour in New Zealand and Australia, early in 2013, and a greater presence on the U.K. and European "festival scene" for a few years, along with another, much-requested, FLOAT TO THE FESTIVAL expedition.
My 2012 will be starting early; with gigs in Whidbey Island, WA., Calgary and Chicago; all before the end of February. Brrrr!
A U.K. Folk Club tour, in March, will coincide with my Mother-In-Law's 90th Birthday.
The summer of 2012 will see the return of the ASTA Tall Ships to North America's East Coast; so I'll probably be involved in some of that.
Plans are afoot for me to participate — after a hiatus of several years — in MYSTIC SEAPORT'S ANNUAL SEA MUSIC FESTIVAL, over the second weekend in June; and I've been invited to be on the faculty of THE WOODS MUSIC AND DANCE CAMP, in Ontario, in August. Coincident to that, I'm hoping to arrange to be at some other Canadian festival. For more news about that, keep an eye on my Tour schedule page.
Do keep in touch. Contact details can be found elsewhere in these pages. Tom.
---
December 2009
The big news is that we are finally able to offer my CDs in downloadable format. Please follow the Recordings links in order to do that.
And... after a hiatus of almost two decades, we are very pleased to announce that, thanks to all this wonderful (digital download) technology, the groundbreaking album Making Waves is once again available to the world at large.
I recorded this back in the 20th century in Seattle, recruiting the vocal and instrumental talents of William Pint and Felicia Dale, making good use of William's undoubted arranging and production skills.
The results were spectacular! Indeed, Mike Joyce, the discerning and tough reviewer for The Washington Post, not only gave it a great review, he actually came to a D.C. concert to hear the live version! Anyway, you can judge for yourself by listening to some of the soundclips.
Due to circumstances beyond my control, Making Waves has been unavailable as a CD for several years. As it contains some of my favourite songs and arrangements, I am very pleased to be able to make it available again, albeit as a virtual album. Please see Making Waves for further details.
Please note ... in order to maintain the studio quality of my recordings, we have created the digital files at as high a resolution as possible – without making them too cumbersome to download. Thus if they take a while to download, I hope you will bear in mind I wish to give you the best quality possible.
---